About Callme
 

 

 

CALLME CO., LTD was born with the passion to provide clean water treatment solutions for drinking, daily life, industry, agriculture, manufacturing, aquaculture, animal husbandry, ... with quality products. quality of prestige comes from advanced countries like Japan. Develop and apply smart service systems to customers in a simple, convenient and effective way.

CALLME's business is focusing on clean water treatment, IoT-based smart home systems and healthcare products with the aim of providing high quality products and secure services. to customers, and at the same time contribute to protecting the environment, towards green technology, creating a sustainable development foundation accompanying the community in Vietnam.

With more than 20 years of experience working with Japanese multinational corporations and distributors representing Japanese brands in Vietnam, building and developing a warranty service system, researching new products into the market. Vietnam school, training and developing human resources, building brand name strategy ...

Founder Callme wishes to contribute values ​​and benefits with high quality products and services to domestic and international consumers.

The way I see it, if you want the rainbow, you gotta put up with the rain. (Dolle Perton)
June 2016 started for a new journey, learn about Mitsubishi Chemical Cleansui water filter device. Previously, I never cared about the quality of water I drank every day. Still used to use tap water to cook for everyday foods and drink water from 20 liter bottles that are ready, don't even care what brand it is, nor is Lavie or Vinh Hao ... After Approaching Mitsubishi Cleansui's water filter, the most impressive thing I ask myself is why is it so small that it can filter water for drinking? Does it guarantee the standard of clean water to drink? ... However, after trying to get all kinds of water from the tap water with the smell of chlorine, to the cleaning water, dirty water ... to filter through the device and make White mice to test the taste of water ... really surprised when the water tastes good as usual.
Continue the journey for regions to experience the device, start passionate and learn the water purification technologies in the market, any RO, Nano, UF, ... each technology has advantages and disadvantages. Differences.
Through the concerns, the first "slogan" for the Cleansui product was born:
"CLEAN WATER - GOOD TASTE - INTACT MINERAL"
In February 2017, the first journey came to the factory of Mitsubishi Chemical Cleansui in Japan. Working, visiting and learning Japanese manufacturing process of water purification technology. See for yourself the process of producing filter equipment that is extremely compact, such delicate design, deeper understanding of technology. More confident about a high-tech product. Mark the beginning of bringing products to Vietnam market.
In May 2017, Mitsubishi Chemical Cleansui water purifier officially introduced to Vietnamese consumers with designs that meet the needs of clean water from home to commercial.
In 11/2017, the whole system with 75 service stations has officially visited Mitsubishi Chemical Cleansui factory through the event celebrating 10 years of accompanying Air Conditioner Mitsubishi Heavy Industries in Japan organized by Hai Li Co., Ltd. - Exclusive distributor of Mitsubishi Heavy Industries.
After 7 months officially came to consumers, and 1.5 years since directly contacting and researching Mitsubishi Chemical Cleansui products, the product has gradually received the trust of customers.
In 2/2018, CALLME Company Limited was officially born, founded by Mr. Nguyen Hong Phuong with the orientation to continue developing Mitsubishi Chemical Cleansui brand with the commitment to provide better quality service to people. consumption in Vietnam market.
City HCM, February 1, 2018
<Nguyen Hong Phuong>
-----------------------------------------------------------------------
CLEAN WATER RESOURCE CARE STORY
In 6/2018, after a series of development of Cleansui in Vietnam market, I continued my journey to learn about other water filtration technologies from Japan and other countries in the world.
In August 2018, Callme Company officially accepted the development of Kitz Micro Filter brand of advanced hollow fiber membrane technology from Japan developed by Kitz Corporation for over 30 years as a sole distributor. Southern region rights. And the Dileka brand of ion-enriched water treatment equipment with unique technology to achieve patents in Japan has been developed over 120 countries around the world. Besides, the Emiir brand of hard water treatment equipment has been used by many large corporations in Japan.
Technology is boundless, choosing quality products and reputable brands to be safe to serve consumers is the core guideline of CALLME founder.
After the story, DELICIOUS CLEAN WATER for Mitsubishi Chemical Cleansui is both passionate and energetic from the first days of researching Cleansui products, choosing products and development strategies for Cleansui in Vietnam market. I continue to accompany quality brands from Japanese corporations.
--------------------------------------------------------------------------------
STORY "CHANGE WATER SOURCES - CHANGE LIFE"
In the early days of 2019, turning into a year Callme turned 1 year old, predestined to me about the line of high-tech water purification products in Japan. Following the above quality brands, I had the opportunity to learn about the famous Kangen electrolyte series of Enagic Japan. After learning, testing, using experience and arriving at the headquarters of Enagic Manufacturer on Okinawa island and Osaka factory in Japan in March 2019. Seeing the production technology, the scale of development, and it is with water quality testing, the actual results proved globally, that I really love the Kangen water. Love and passion is more than the journey to find water not only clean but also a good source of water for the health of yourself and the community. These days in Japan are really meaningful and happy feeling when coming to the factories producing water purification equipment, high quality water treatment, reputable brands in the international market.
That's how valuable it is to be useful when we can protect ourselves by being aware of our daily eating and drinking, and for our relatives and the community. How can all people in the world use what was originally blessed by nature, but has been gradually devastated by the same people because development also serves man. Now people can only find solutions to protect themselves.
As for clean water, it is always an anxiety for us all. So how to improve this. The story of "Changing water source - Changing life" of Kangen - Enagic is really full of meaningful messages.
HCM city 03/2019
<Founder- Nguyen Hong Phuong>
Worked with passion and endless passion, along with Japanese brands such as Mitsubishi Heavy Industries, Mitsubishi Chemical Cleansui from 2005 to present.
Technical training & visiting Mitsubishi Heavy Industries in Thailand
Vietnam Service Station system visit Mitsubishi Chemical Cleansui factory in Japan
Hold Technical seminar for Mitsubishi Chemical Cleansui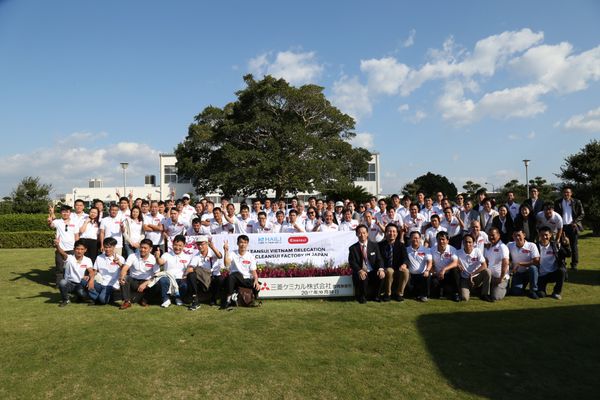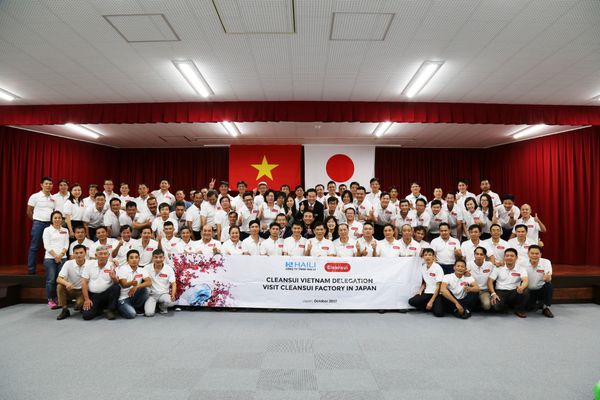 SHOWROOM OPENING OF WATER PURIFIER - MADE IN JAPAN
Factory Mitsubishi Chemical Cleansui in Japan